Order BJ Penn's Why I Fight From Amazon.com
UPDATE – Available as Kindle eBook For Just $12.99!!!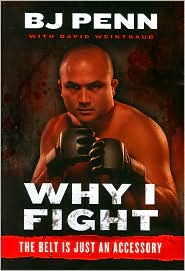 As huge fan of UFC fighter and MMA legend BJ Penn, I couldn't wait to review his brand-new autobiography entitled Why I Fight: The Belt Is Just an Accessory
.
Why I Fight is an important milestone in the MMA book world for several reasons.
Penn is widely considered to be one of the sport's all-time pound-for-pound greats, along with luminaries like Fedor Emelianenko, Georges St. Pierre, and Anderson Silva. He's also the only member of that esteemed crowd to tell his life story in book form.
Secondly, Penn is the first member of the newer generation of elite fighters to tell his tale. We've seen autobiographies from Randy Couture, Chuck Liddell, and Tito Ortiz, but not one from a legend still in his prime.
And finally, Why I Fight is proof that a UFC fighter can build a brand without the support of the organization. Just take a look at the book's cover – Penn's gloves don't carry the UFC logo.
UFC President Dana White has expressed an extreme dislike for Why I Fight, despite not having read it. Check out this excerpt from a recent SI.com article:
White told SI.com that after he became aware of the book, he approached Penn and Penn family lawyer, Gary Levitt, with a question: "Why would you put out a book that is 90 percent not true?"

"I asked him why he would write lies in there and he swore to me that he didn't write it or read it," White said. "So did Gary. If today they are saying they didn't say that, then I feel sorry for them."

Penn declined to speak directly with SI.com, though he could be heard over the phone talking to Weintraub. Penn, who made it clear he hoped to avoid a fight with White, did not back away from the contents of the book.

"Dana is trying to make it seem like I wrote a book about B.J.," said Weintraub from New York, where he joined the recently deposed UFC lightweight champion as hard copies hit shelves Tuesday. "One-hundred-percent false. All the words in that book are the words and thoughts of B.J. Penn. I'm a co-author, my job is to help him put his thoughts to words. He's read the manuscript. The manuscript became the book."
Admittedly, White does not come off as an angel in the book. BJ paints the UFC negotiating process as being exceedingly tough – but is anyone really surprised at that.
There is some controversy in the MMA blogosphere regarding the fact that the UFC offered BJ less than a third of what K-1 offered him. However, nobody is talking about the fact that there has to be more to the story if BJ was willing to give up a lucrative deal with K-1.
Anyway, back to the book.
BJ paints a colorful picture of his childhood, in which he generally raised hell while hopping around beautiful Hilo, Hawaii.
Hilo looks like paradise on TV, but it prepared BJ well for the rough-and-tumble world of MMA. Getting into street fights, holding boxing matches on one's front porch, and jumping off 80-foot cliffs are apparently all great way to prepare yourself for competing in a violent, unpredictable sport.
After turning 18, BJ was shipped off to California to train in Brazilian Jiu-Jitsu under Ralph Gracie. Under Gracie, Penn significantly advanced his BJJ skills and began making waves in California's competition circuit.
And this is where Why I Fight turns into one of the best MMA books ever written.
BJ was among the most-hyped rookies in MMA history – a rare fighter that actually made his professional debut inside the UFC's famed octagon. Thus, every detail of Penn's MMA career has been painstakingly detailed by the MMA blogosphere.
But what we haven't heard is details regarding BJ's jiu-jitsu days beyond what old training partners have mentioned on forums, and from what we've read in the few old interviews that are out there. And this is where Why I Fight gets really interesting, and surpasses other MMA autobiographies.
BJ reveals which member of the Gracie family was crazily rooting against him at the 1999 Mundials. And how well Dana White and Lorenzo Fertitta's first BJJ lesson went. And how the Gracie Barra guys behaved at tournaments. And what it was like to fight a referee that previously disqualified him from a tournament.
And so on. And so on. And so on.
Why I Fight would be a buy based upon BJ's in-depth recounting of his BJJ career, but there's also a wealth of information to be learned in the section dealing with Penn's MMA fights.
BJ goes through his MMA career fight-by-fight, sharing every minute detail regarding training and fighting, leading up to and including his victory over Kenny Florian at UFC 101 . There is a major emphasis on the backstage politics of MMA, illuminating how tough it can be for even a  major star like BJ to successfully negotiate with the UFC.
As with his BJJ days, BJ spared absolutely no detail and gives readers an incredible inside look at the challenges, rewards, and pressures of being a big name in the sport. Particularly illuminating are BJ's thought on the pre-fight buildup to UFC 94, and the evolution of his rivalry of Sean Sherk.
And of course, BJ lets us in on his new family life after becoming a father, and how that's affected his fighting career.
Overall, Why I Fight is easily the best MMA autobiography in existence, though I admittedly haven't yet read Randy Couture's book. It's the ultimate BJ Penn reference guide, so fans of his should order it immediately.
But even those who don't like Penn will find an awful lot about Why I Fight appealing. BJ teaches us an awful lot about the evolution of big-time MMA in America, and Brazilian Jiu-Jitsu fans will love the recounting of that portion of BJ's career.  The names he came into contact with are a veritable who's who of BJJ – Terere, Vitor "Shaolin" Ribeiro, Rickson Gracie, Robson Moura, etc.
Buy the book. It rocks.
Order BJ Penn's Why I Fight From Amazon.com